Starting your trip from one of the U.S. Niagara Region airports can save you time, money and hassle. Close to 100 non-stop flights per day serving 30 airport destinations and beyond means you get to where you're going better and faster! Many of your neighbors already benefit from flying with us; almost two million Canadians used our airports last year. Listen to what your fellow Canadians are saying about flying from Buffalo.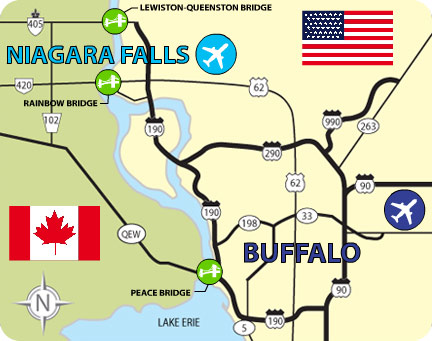 SAVE TIME
The average peak wait time at the Buffalo checkpoint is only 12 minutes.
If you fly from Toronto Pearson you are instructed to arrive at the airport 3 hrs before your flight. See for yourself.
No additional airport stop for Customs & Immigration (U.S. destinations).
Our airports are mere miles from the Canadian border and the QEW.
SAVE MONEY
The Buffalo airport is ranked 46th in the U.S. for most affordable airfares (Q3 2021).
Parking rates at our airports are low.
No international taxes or fees to fly to U.S. airports.
If you fly from Toronto to the U.S. you can expect significantly higher government-imposed taxes and fees than if you fly from this side of the border.
---